Hi,
observing and imaging Jupiter has been tough over the last years for us northern folks. The low declination caused low transit altitudes – difficult conditions for fans of the big one. Fortunately – at least for inhabitants of the northern hemisphere of earth – conditions already improve this year with max. transits of around 38° altitude during the summer months and the outlook is great.
Jupiter oppositions for my locations with transit altitudes:
21.09.2010 - 36°
29.10.2011 - 47°
03.12.2012 - 60°
05.01.2014 - 61°

I recall imaging Jupiter high in the skies some years ago.  It should be fun with my current equipment and some lessons learned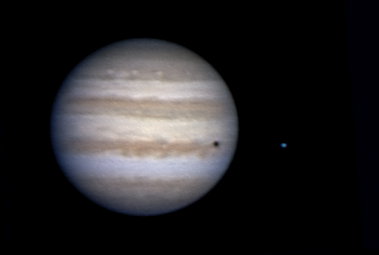 Cheers, Oliver
Hi,
after my lunar imaging session on April 23rd I almost called it a day (night?) since the seeing worsened substantially at lady lunar. I was about to break down the equipment but decided to take a final look at Satun. To my surprise the view was quite stable and well defined in the eyepiece although Saturn was located above my roof top and less than 40 degrees afar from the moon. Sometimes I really don't get the mysteries of seeing


I fired up the already stowed away camera again and shot 4 AVIs: RGBR. Transparency was really bad that night so that I could only use 1/19s integration time for R and G and 1/11s for B. Capturing ~4000 frames at 7.5fps for the blue channel took forever.
The AVIs have been processed in AutoStakkert and sharpened in Fitswork with the iterative Gauss sharpening. This gives the best results for my Saturn captures and enhances noise virtually not at all. Wavelets produce a lot of noise used on my Saturn captures and enhance cloud banding much less – quite in contrast to my lunar captures where wavelets work best by far.
The RGB image is the result of the G,B,R imaging sequence. The result shows the Rhea-transit shadow and Titan. I aligned Titan on the R and B channel to it's position in G and enhanced brightness/contrast partially. The cloud bands show some small details, most prominently above/below the rings and I'm not 100% confident these are real features. I created an contrast enhanced animation of both red captures but two frames aren't enough to really tell all the features are real.
After the last R capture seeing also diminished at Saturn, time to end the session…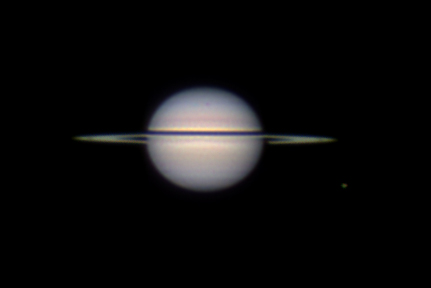 Click image for full version with details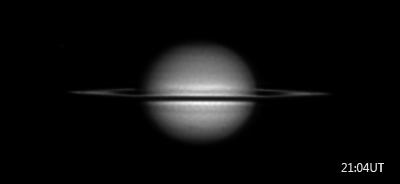 Cheers, Oliver
Hi,
reasonable results of my Plato and Pitatus captures from April 23rd are still pending. I tried Registax 5.1 with the Plato AVI yesterday without success. A first run with a single alignment point to check out the AVI's potential lead to a good but not spectacular result near the alignment point, a sharp crater rim and craterlets close to the AP well defined. Multipoint processing was not that good. The automatic MAP selection resulted in a horrible image with alignment areas washed out and harsh seams between the areas, carefully choosing 12 points manually wasn't much better


Ok, I switched back to AVIStack. The first AS processing I tried was fine outside the crater where the harsh terrain has good contrast for the AP tracking. Only the crater floor was completely washed out. I parametrized AS as suggested by Michael Theusner himself and others with increased correlation area radius and higher smoothing factor settings. The estimated  processing time of 8 hours compared to a fraction of that before required running the job overnight. Unfortunately Windows 7 decided to reboot after updates during the night although it shouldn't, needless to say all processings are lost

Jeez, who's programming this stuff…
I'll retry today, if AS still has issues on the contrastless crater floor I might switch back to manual MAP processing with several single point runs and insert the crater floor into the otherwise fine AS result. It looks like these captures with high frequency seeing oscillations and prominent noise are a very hard nut to crack. A bit surprising to me since I always have been amazed how good AS is tracking alignment points on almost no contrast in the footage.

Cheers, Oliver