Hi there,
I haven't been able to do some real imaging for quite a while. During some indoor camera testing I found a couple of unprocessed lunar AVIs on my imaging laptop that I have captured 2009.01.06. and started to remember: Seeing was quite bad, I tried to image Plato with the C11 and a 2x barlow but gave up soon – no steady image at all – the evidentiary AVI is still on my disk. I stepped down and plugged the DMK2104AF directly into the focus of the C11 to capture at least some low resolution shots for a mosaic. I started at Plato and worked my way over to Sinus Iridum, across Mare Imbrium to Archimedes, Copernicus and the terminator. The result is quite chaotic but considering the conditions (seeing, it was really frosty and I had to clear a lot of snow prior to imaging and a nasty influenza was already on its way inside me…) I'm happy I processed the already forgotten footage. The Hortensius Domes east of Copernicus came out quite nice.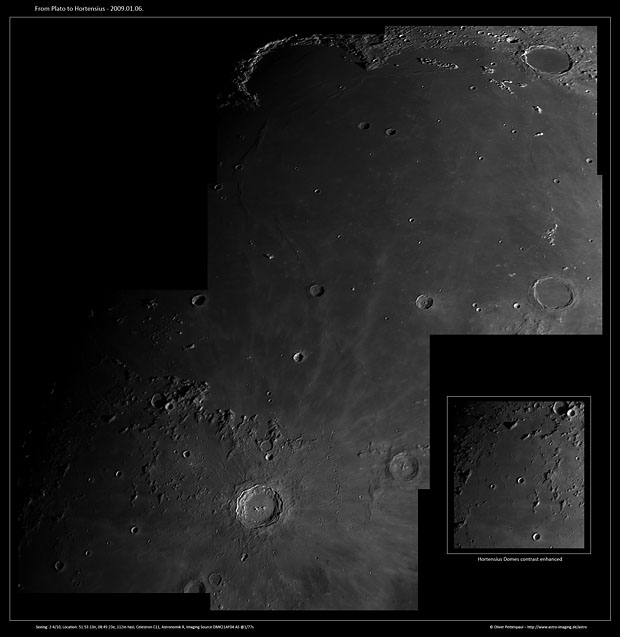 Please click the preview image for the full capture size
The mosaic is a 8 patch piece, each patch is a stack of 156 from 4444 frames in AVIStack. I'm a little unsure about the tonal balance since I processed the image on a new display. Any feedback is highly appreciated!
Best wishes & clear skies,
Oliver